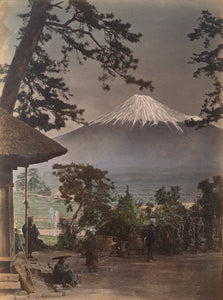 日下部金兵衛 KUSAKABE Kimbei
Fujiyama, from Suzukawa, Tokaidō, c. 1880
Archival pigment print on handmade washi paper  60.5 × 81.5 cm
Edition of 12 + 2 APs
Unframed, shipped flat, Delivery time: 3-4 weeks
This photograph, by an explicit reference to a station of the Tokaidō road and the vertical composition of landscape common in Japanese prints but quite rare in photography is clearly inspired by the aesthetics of ukiyo-e. But contrary to what has often been said, about Felice Beato in particular, Japanese photographs are very seldom inspired by Japanese prints and this one is the exception rather than the rule.
The writing of the original caption, "Fuji-Yama", was an early but erroneous transcription of Mount Fuji, indeed spelled Fuji san in Japanese (富士山).
Kusakabe Kimbei (日下部金兵衛, 1841–1934) opens his studio in Yokohama busy Benten-dōri street in 1881 and it remains active and prosperous up until 1913. He apprenticed with Beato and Stillfried and was responsible for part of the catalogue of Stillfried and Andersen. Up till then albums had simple western-style bindings in leather. Kimbei (Kusakabe used his given name as his commercial identity) completed his albums with superb lacquered covers, ornamented by "japanesque" scenes — a style which will be adopted by all studios. The smaller formats are given concertina style bindings and covered in Japanese cloth.
Kimbei was also the first to systematize the use of numbered marginal printed captions in his prints, facilitating the choice of prints in a catalogue of more than one thousand references. The client had the option of removing the insert by having the lower margin of the thin albumen prints cut away before having the prints pasted on the pages of his album.